Investar Bank Now Open in the Oil Center
October 28, 2019
Second Lafayette Location and Fifth in the Acadiana Region
Lafayette, La. – Investar Bank opened its newest branch located at 900 E. St. Mary Blvd. in Lafayette today, October 28, 2019. This is Investar's 25th branch location, second in Lafayette and fifth in the Acadiana region that offers high-touch, personal community banking service for businesses and individuals with a full array of products and services.
"We are very pleased to be expanding our presence in the Acadiana market by adding another branch in Lafayette. We're committed to the community and look forward to providing more convenience to our customers with this new location as well as the opportunity to add new customers," said Robert Lott, Acadiana Market President, Investar.
The modern 4,600 square-foot facility employs a full-service branch staff, plus the Litigation Finance team and commercial lenders who are all focused on meeting the needs of customers. Currently, the facility features a drive-through lane and night deposit box. In the coming months, Investar will have a walk-up ATM available for 24/7 access. The Bank is committed to expanding its client-focused community bank offering across the Greater Acadiana market.
"By adding this new location on E. St. Mary, we expand our reach into the heart of Lafayette. We are conveniently located to the Oil Center, Medical District, ULL and Downtown," said Jeff Blum, C&I Banking President, Investar.
This branch in the Oil Center is open Monday – Friday from 8:30 a.m. to 5 p.m. Stop by to speak with any of our experienced, local bankers – including Branch Manager Jennifer Fontenot, the Litigation Finance team, or any of our experienced commercial lenders, visit us online at www.InvestarBank.com, or call us at 337.703.6700.
Photo caption: Oil Center Staff Welcomes You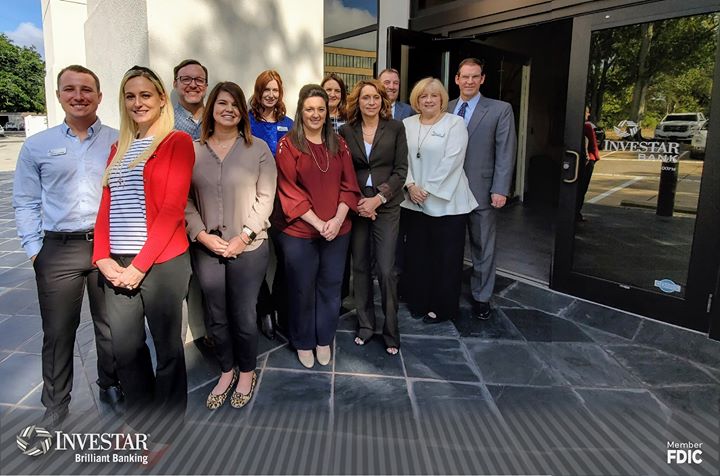 ###
Investar Holding Corporation (NASDAQ: ISTR), parent company of wholly-owned subsidiary Investar Bank, National Association ("Investar"), had total assets of approximately $2 billion as of Sept. 30, 2019. Investar is a full-service community bank headquartered in Baton Rouge, La. offering extensive banking products and services for individuals and businesses for over 10 years. The Bank has 25 branches serving several markets across South Louisiana and Texas: the Baton Rouge area (Baton Rouge, Central, Denham Springs, Port Allen, Gonzales, Prairieville, Jackson, Slaughter, St. Francisville, Zachary), Hammond, the Acadiana area (Lafayette, Ville Platte, Mamou, Pine Prairie) and the New Orleans area (Metairie, Elmwood, Mandeville) and three branches in Texas (Houston, Texas City, Dickinson). Investar Bank NMLS ID# 481188. Equal Housing Lender. Member FDIC. To learn more, visit www.InvestarBank.com.