Investar Bank Expanding Lake Charles Market Footprint
September 23, 2019
New Westlake Location Slated to Open Fall 2019
Lake Charles, La. – Investar Bank, National Association ("Investar") has finalized a transaction for the acquisition of a branch location in Westlake, La. This branch will give Investar its initial step toward their full service expansion into the SWLA market. More importantly it will focus on and address the immediate needs of the West Calcasieu customer base. By opening this branch, it will give Investar the ability to service the numerous companies that work with and support the local Petrochemical industry. Renovations of the Westlake location will begin soon with an anticipated opening date during the fourth quarter of this year; pending regulatory approval.
In the fall of 2018, Investar opened its first Interactive Teller Machine/ATM on Country Club Road in Lake Charles. This location is currently under construction and will house the second full service branch located in the SWLA market. Construction is currently underway with an estimated completion date and opening slated for the second quarter of 2020; pending regulatory approval. When utilizing the ITM, community members can interact with an Investar banker Monday through Friday during the business hours of 8:30 a.m. to 5 p.m. and use the machine as an ATM 24/7. This was Investar's original entry into the SWLA market prior to the hiring of Kevin Lacy and Steve Lacy, who both joined in April of this year.
"We are thrilled to be given the opportunity to offer our outstanding products and services to the exceptionally hard working people of Westlake. Steve and I are excited and humbled to see that both the Lake Charles and Westlake branches are simultaneously beginning to take shape," said Kevin Lacy, Commercial Market Manager, Investar. "The new Westlake location will give us the ability to service a community that has been historically vital to the overall success of the SWLA market. We are proud and honored to say that our first 'brick and mortar' branch, in SWLA, will be in Westlake, La. We remain confident that we will continue expanding Investar's brand throughout the region," continued Lacy.
Investar currently has 24 locations across South Louisiana and Texas with plans to add more by the close of 2019. The Bank has been focused on growing its footprint across the Gulf South to provide the highest level of service to more clients. Investar offers extensive banking products and services for individuals and businesses. For more information, contact us at 337.656.6193 or visit us online at www.InvestarBank.com.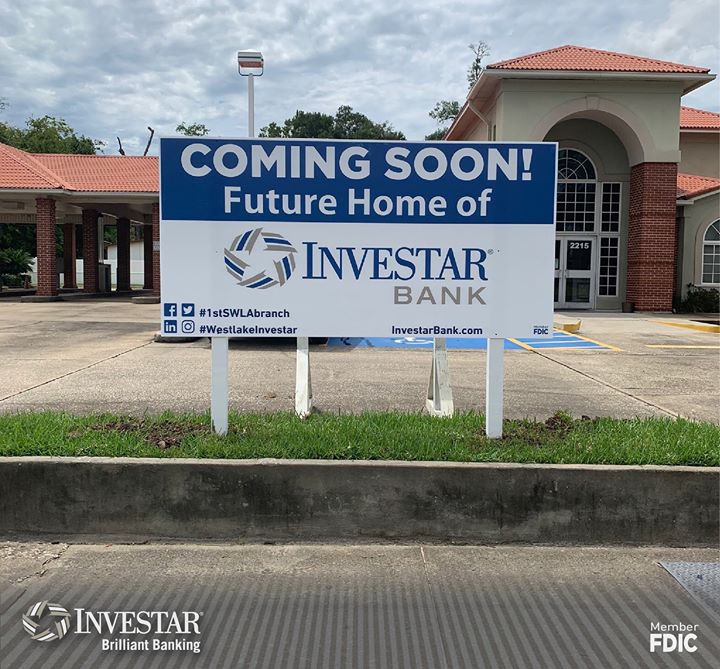 Photo caption: Future home of Investar Bank, 2215 Sampson Street, Westlake, LA 70669
###
Investar Holding Corporation (NASDAQ: ISTR), parent company of wholly-owned subsidiary Investar Bank, National Association ("Investar"), had total assets of approximately $2 billion as of June 30, 2019. Investar is a full-service community bank headquartered in Baton Rouge, La. offering extensive banking products and services for individuals and businesses for over 10 years. The Bank serves several markets across South Louisiana with 24 branches: the Baton Rouge area (Baton Rouge, Central, Denham Springs, Port Allen, Gonzales, Prairieville, Jackson, Slaughter, St. Francisville, Zachary), Hammond, the Acadiana area (Lafayette, Ville Platte, Mamou, Pine Prairie) and the New Orleans area (Metairie, Elmwood, Mandeville) and three branches in Texas (Houston, Texas City, Dickinson). Investar Bank, National Association – NMLS ID# 481188. Equal Housing Lender. Member FDIC. To learn more, visit www.InvestarBank.com.