We are a bank holding company headquartered in Baton Rouge, Louisiana, offering a wide range of commercial banking products tailored to meet the needs of individuals and small to medium-sized businesses through Investar Bank, our Louisiana-chartered commercial bank subsidiary. We serve our primary markets of Baton Rouge, New Orleans, Lafayette and Hammond, Louisiana, and their surrounding metropolitan areas from our main office located in Baton Rouge and full-service branches located throughout our market area. We have experienced significant growth since the Bank was chartered as a de novo commercial bank by John J. D'Angelo, our President and Chief Executive Officer, in 2006 and believe we will have continuing opportunities to grow, both organically and through strategic acquisitions. With an experienced management team, excellent credit quality, high levels of capital, and an infrastructure capable of accommodating our growing franchise, we believe that we are positioned to take advantage of market opportunities in the future.
Stock Quote
Exchange
Volume
Today's Open
Previous Close
Data Provided by Refinitiv. Minimum 15 minutes delayed.
Stock Chart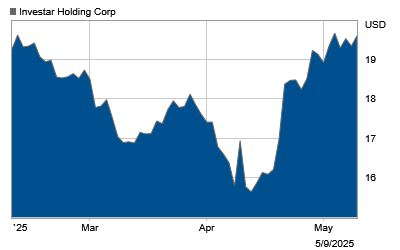 The Whistleblower Hotline can be accessed 24/7 via a secure web form, email or voicemail. Click for more.